Humans will struggle to go cold turkey on 'anti-animal' idioms, wordsmith says
Edmonton educator Tim Cusack wonders if PETA doesn't have bigger fish to fry
CBC News · Posted: Dec 06, 2018 11:04 AM MT | Last Updated: December 6
From 'beating a dead horse' to 'bringing home the bacon,' PETA is calling on people to stop using 'anti-animal' language. (The Associated Press)
Instead of killing two birds with one stone, how about feeding two birds with one scone?High-profile animal rights activist group People for the Ethical Treatment of Animals caused a stir on social media this week when it instructed supporters to stop using "anti-animal language."
In a tweet, PETA said "words matter" and people should "remove speciesism" from their daily conversations. Don't say "beat a dead horse" the group advised. Instead, try "feeding a fed horse."Instead of "bringing home the bacon," bring bagels home instead.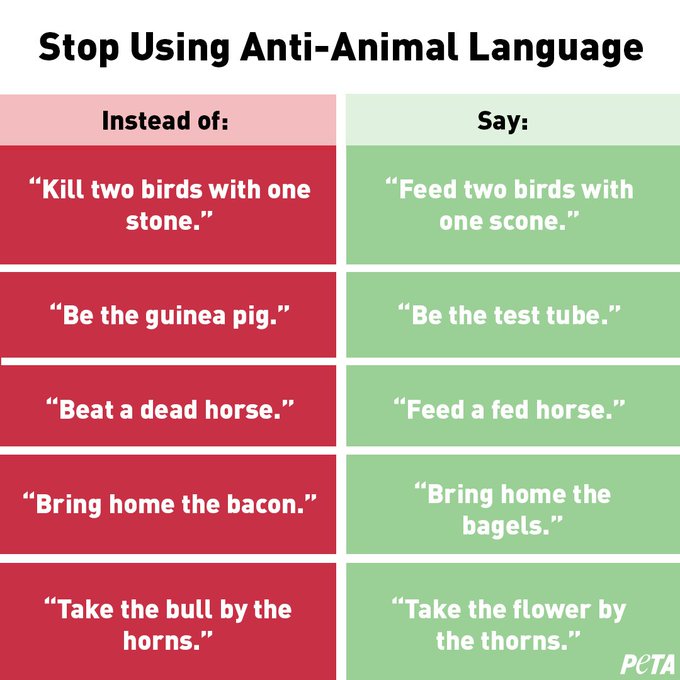 Edmonton writer, poet and educator Tim Cusack said humans will struggle to follow PETA's advice. So many expressions evoke images of animals and PETA may have jumped the shark on the issue. Cusack wonders if they don't have bigger fish to fry
"Animals play an important part in our culture and over time we've come to use animals as a metaphor or an illustrative example for many things," he said."For instance, when we talk about the importance of a community working together we say, 'Birds of a feather stick together.' When we think of giving directions we say, 'As the crow flies.'" Cusack said animals, insects and all kind of creatures have taken on a prominent role in how we express feelings and these phrases are a common crutch for most humans. They've become ingrained in our language. "Perhaps you've been as busy as a bee, or have a bee in your bonnet, or feel badgered to death," Cusack said in an interview Thursday with CBC Radio's Edmonton AM.
"There are a lot of animal clichés and statements that really have been part of vernacular for quite some time and it's often very difficult to dislodge that."
We're crying a lot of crocodile tears. - Tim Cusack
Cusack has a certain affinity for animal related expressions and said he has no interest in going "cold turkey." Most of these idioms are benign, and are often nonsensical. "I can certainly appreciate how we want to be mindful of how we're treating animals, how we want to be humane and value animals in our society," he said. "But I think we're crying a lot of crocodile tears over some traditional sayings that are perhaps still quite appropriate or fitting, depending on the circumstances you're trying to depict. "If a cat's got your tongue, make a beeline for your favourite expression."
https://www.cbc.ca/news/canada/edmonton/peta-animal-language-tim-cusack-edmonton-1.4934954